The Definitive Guide to The Tascam DA-88 and DTRS Format Recorders
The DTRS series of professional multitrack audio recorders were first introduced in 1993, and used Hi-8 tapes to record digital audio in the DTRS (Digital Tape Recording System) format. There were two versions of DTRS, 16-bit and 24-bit. Many models of DTRS recorders were manufactured to record and play back audio.
This is an eight-chapter "real world" manual for DTRS format recorders (Tascam DA-88, DA-78HR et al), designed to summarize the most important facts necessary to using this system, offer tips, and explain candidly what the manufacturers have not. Tascam has created a great format but like any recording medium, there are tricks to using it efficiently. So, I've summarized my findings for fellow engineers and studios (it's around 11,000 words so far). This should flatten the learning curve for those new to the format. It's designed as a more readable complement to the original Tascam manuals, which are not all available on Tascam's website.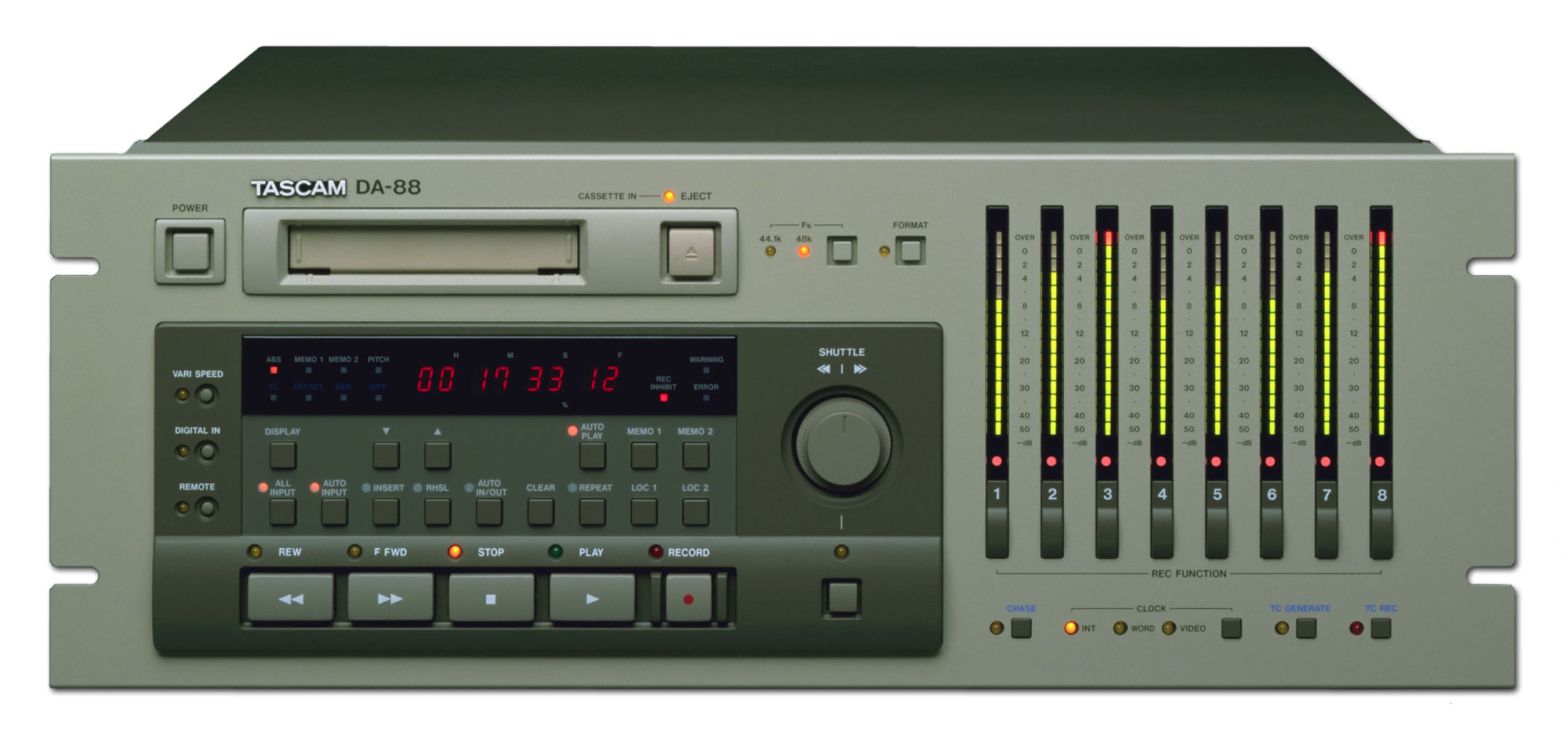 When I first invested in this format in 1993, my aim was to use it for remote multitrack recording, and the length of tape alone was a big factor in my decision. Since then, it has proven to sound great and perform reliably. The format has become widely adopted by the video post-production community and has spawned many offspring including 24-bit machines.
Of course all great things must come to an end. As of 2012, the DTRS format is officially retired. It is still used in a few video post-production and remote recording environments, but music-only recording studios have moved on to hard drive recorders and DAWs. Tape is increasingly difficult to find.
The eight chapters that follow describe almost everything about these recorders. If you are in need of archival services to preserve old DTRS recordings, contact me.
- Tony Brooke, silentway.com
Here are a few original manuals for download (others might be available through Tascam): the DA-88 Manual, the original SY-88 manual, the SY-88 v4 supplement, the DA-78HR manual, the DA-78HR QuickStart guide, the RC-848 remote v4 manual, the RC-898 remote manual, and the DSub pinout.
This entire guide is Copyright © 2010 Silent Way. Unauthorized reuse is prohibited.
The chapters in the guide: